Amulet of Elusion
by Katie Lynn Johnson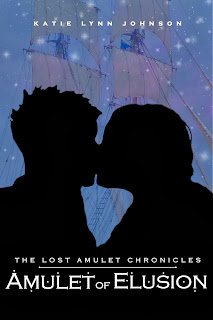 Title: Amulet of Elusion
Author: Katie Lynn Johnson
Publisher: Self-published
Publication date: July, 2012
Softcover: 378 pages
Stand Alone or Series: Series–this is the first installment in a series.
How I got this book: Copy provided by the author.
Why I chose this book: What really got my attention with this book was the synopsis.  It sounded original and intriguing, so I wanted to give it a try.
Book Synopsis
Alexa Costa has a life-altering secret… only she doesn't know it yet. 
Confined by law to the kingdom of Alvair until the age of eighteen, Alexa has lived a sheltered existence under the watchful eye of her sword-wielding guardian, Ivy. Her love interest, Caleb Whitman, is exactly the opposite. A merchant sailor and seeker of rare artifacts, Caleb has lived a life of adventure in nearby San Lucero, the long-time rival of Alvair. 
After her eighteenth birthday, Alexa's quiet existence becomes tumultuous, and she realizes she does not need to seek to find adventure. Myths become real, legend becomes fact, and Alexa discovers that she possesses rare abilities which make her a target for both sides in a centuries-old struggle for power. She must use every resource available to her—including her talents with the supernatural Amulets— to help her friends, rekindle her romance with Caleb, and save her island home from destruction.
Review
I went into this book with a lot of expectations of what was to come.
The synopsis led me to be hopeful for a really original, unique story.
I wasn't disappointed, either.
This was such a great read in that respect. I always have a lot of respect for authors who can create a whole new world, especially one than can immerse me like this one did.
However, there were some issues I had with this story.
When I first started the book, it began slowly, and I wanted the plot to pick up the pace, to find out what was going to happen. I trudged on, half because I thought the book might pick up, and half because I still wanted to know what was at least going to happen to the characters. At around the halfway point is when things started picking up and the plot got thicker and thicker. If the first half of the book mirrored the second half as far as pacing, it would have been almost perfect.
Overall, I liked this story, though I'm not sure if I will continue on with the rest of the series.
Out of five stars I would give it three and a half.