Heavenly
by Jennifer Laurens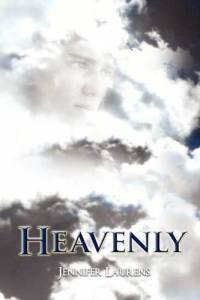 Title: Heavenly
Author: Jennifer Laurens
Publisher: Grove Creek Publishing, LLC
Publication date: November, 2010
Softcover: 292 pages
Stand alone or series: Series–this is the first in a series
How I got this book: From the author–JL
Why I chose this book: I've had this eye on my book for a while.  It seemed really interesting, and I've just been too busy to get around to it.  Now I'm glad I did.
Book Synopsis
I met someone who changed everything. Matthias. My autistic sister's guardian angel. Honest. Inspiring. Funny. Hot. And immortal. That was the problem. What could I do? I did what any other girl would do-I fell in love with him. Zoe's sister darts in front of cars. Her brother's a pothead. Her parents are so overwhelmed; they don't see Zoe lost in her broken life. Zoe escapes the only way she knows how: partying. Matthias, a guardian sent from Heaven, watches over Zoe's autistic sister. After Zoe is convinced he's legit, angel and lost girl come together in a love that changes destiny. But Heaven on Earth can't last forever.
Review
Heavenly took my expectations and blew them away!  I don't want to spoil anything, so I'm going to be vague and say I saw some things in this book that I've NEVER SEEN BEFORE.  Crazy, I know.  My emotions were on a rollercoster all throughout Heavenly, as I followed the growing relationship between Zoe and Matthias.  There are twists and surprises, there are somber moments, there are sweet nothings.  I would recommend this book to anyone looking for something different, or love a heart stopping romance.