Hereafter
by Tara Hudson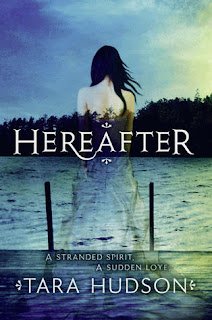 Title: Hereafter
Author: Tara Hudson
Publication date: June, 2011
Publisher: HarperTeen
Hardcover: 416 pages
Stand Alone or Series: Series–this is the first in a series.
How I got this book: Bought
Why I chose this book: After reading the synopsis, I was really intrigued, and decided that I needed to read this book.
Book Synopsis
Can there truly be love after death?
Drifting in the dark waters of a mysterious river, the only thing Amelia knows for sure is that she's dead. With no recollection of her past life—or her actual death—she's trapped alone in a nightmarish existence. All of this changes when she tries to rescue a boy, Joshua, from drowning in her river. As a ghost, she can do nothing but will him to live. Yet in an unforgettable moment of connection, she helps him survive.
Amelia and Joshua grow ever closer as they begin to uncover the strange circumstances of her death and the secrets of the dark river that held her captive for so long. But even while they struggle to keep their bond hidden from the living world, a frightening spirit named Eli is doing everything in his power to destroy their newfound happiness and drag Amelia back into the ghost world . . . forever.
Review
I've never read a book like this.  (And I've read a lot of books, so that's saying something.) Hereafter is so original, like nothing that's out there on the YA market.  And it's also been a while since I found a book so completely un-put-downable.  I loved everything about it.
The writing style was simply amazing.  It was almost poetic or lyrical in its entricity.  On top of that it really got my imagination going.  I could see everything with perfectly clarity.  The characters were amazing as well.  Since there are so few characters in this book, I think Hudson really had to step up her game, working harder than usual, to make them believeable–which she did an amazing job of. 
I don't come across ghost stories that often.  Or when I do, I tend to stay away from them, because I know I won't like the ending.  So it was with great cautiosness that I approached Hereafter.  I wasn't sure how I would feel about the novel, and the author's future works, once I reached the ending.  But, what I thought was a stand alone novel turned out to be the first book in a series–my mistake.  Now I'll have to wait for the real conclusion to the story.