Revolution
by Jennifer Donnelly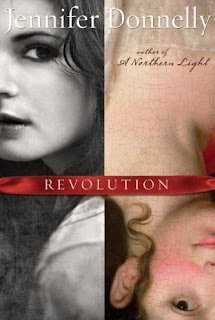 Title: Revolution
Author: Jennifer Donnelly
Publisher: Delacorte Books for Young Readers
Publication Date: October, 2010
Hardback: 496 pages
Stand Alone or Series: Stand Alone
How I got this book: Bought
Why I chose this book:  I really never thought I'd read this book.  I liked the cover, but reading the inside flap, I just wasn't interested.  But I thought I'd keep with my streak of buying books I didn't think I would like.  I have to say, I was pleasantly surprised.
Book Synopsis
BROOKLYN: Andi Alpers is on the edge. She's angry at her father for leaving, angry at her mother for not being able to cope, and heartbroken by the loss of her younger brother, Truman. Rage and grief are destroying her. And she's about to be expelled from Brooklyn Heights' most prestigious private school when her father intervenes. Now Andi must accompany him to Paris for winter break.

PARIS: Alexandrine Paradis lived over two centuries ago. She dreamed of making her mark on the Paris stage, but a fateful encounter with a doomed prince of France cast her in a tragic role she didn't want—and couldn't escape.
Two girls, two centuries apart. One never knowing the other. But when Andi finds Alexandrine's diary, she recognizes something in her words and is moved to the point of obsession. There's comfort and distraction for Andi in the journal's antique pages—until, on a midnight journey through the catacombs of Paris, Alexandrine's words transcend paper and time, and the past becomes suddenly, terrifyingly present.
Review
The Cover: I love this cover, how it shows girls from two different times.  They are different, yet similar. 
The Characters: Andi is an amazing character to read about.  I felt so close with her throughout the book.  I think she really encompasses teen hardships perfectly.  I found my self on edge throughout the whole story with Andi as the protagonist.
Virgil is a rapper.  He's a taxi driver.  He lives in the bad part of Paris.  He's truly not what he seems.  I was a little iffy on him at first, but was thoroughly surprised later.  He has a deep side that he lets shine without hesitation.  I especially love when he gets angry.  I'm not going to spoil anything here, though.  You'll have to read the book.
Alexandrine isn't nice.  This is what I think of here.  She's selfish and self-gratifying.  But she's also human.  Who hasn't been selfish in their life.  But as we go through her story, we realize that in her selfishness, there is also love.  Love for a little boy who experienced what no little boy should ever have to experience.
The Plot: We follow Andi in here music encompassed world as she travels with her father to Paris for winter break.  In those three weeks, she has to complete the outline of her Senior thesis, or she might not graduate.  But she doesn't really give a damn.  All Andi wants to do is end her pain and suffering.  And all it takes is one step…
Reading from Andi's point of view, I was trapped, on the edge of my seat the entire time.  It's writing like this that I would call epicly epic.  I connected with Andi so well.  And then Andi meets Virgil, and I got to read about an honest-to-God relationship–with REAL problems.  It was a breath of fresh air.
But then came the scenes from Alexandrine's point of view.  They were only okay.  Some of them were mesmerizing, but few.  Most of the time, I felt like I was in school, doing the mandatory reading.  Maybe I was the only one who felt this way; but these were the scenes that held the book back from being a 10. (Out of 10).  
Overall: Very good book.  I would love for their to be a sequel.
Spare Thoughts: My favorite scene was the Eiffel tower one.  If you haven't read the book, I would tell you to, just for this scene.  It was mesmerizing.
Final: An extraordinary tale that brings to light the everyday (and not-so-everyday) struggles of being a teen.
Other books by this author: A Northern Light