The Goddess Test
by Aimée Carter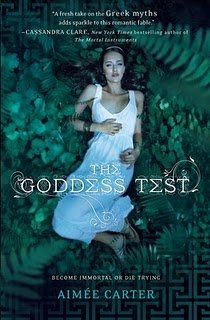 Title: The Goddess Test
Author: Aimée Carter
Publisher: Harlequin
Publication Date: April 19, 2011
Softcover: 304 pages
Stand alone or series: Series–this is the first in a series
How I got this book: Ebook from Netgalley
Why I chose this book: I really love Greek Mythology, and when I heard that some authors would be rewriting them for teens, I was uber excited!
Book Synopsis
Every girl who has taken the test has died.
Now it's Kate's turn.
It's always been just Kate and her mom–and now her mother is dying. Her last wish? To move back to her childhood home. So Kate's going to start at a new school with no friends, no other family and the fear her mother won't live past the fall.
Then she meets Henry. Dark. Tortured. And mesmerizing. He claims to be Hades, god of the Underworld–and if she accepts his bargain, he'll keep her mother alive while Kate tries to pass seven tests.
Kate is sure he's crazy–until she sees him bring a girl back from the dead. Now saving her mother seems crazily possible. If she succeeds, she'll become Henry's future bride, and a goddess.
If she fails…
Review
Though I admit I was slightly disappointed by The Goddess Test, it did have it's redeeming qualities.  While first starting out reading this retelling of the tale of Persephone and Hades, I couldn't stop thinking about Meg Cabot's book – also coming out in April – that is also a retelling of Persephone and Hades.  But while delving deeper into the book, there were more details that separated the two.  In The Goddess Test, there really are tests that Kate, the protagonist, has to take before she can become immortal.  While I thought the love Kate feels for Henry is rash at first, it became more sincere as the story proceeded.  I was also blown away by the surprises in the plot that took me by, well, surprise!  While The Goddess Test isn't one of the best books I've ever read, I would recommend it.