The Iron Queen
by Julie Kagawa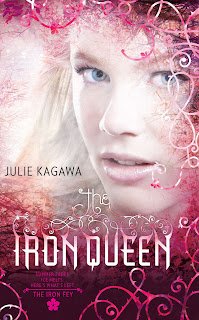 Title: The Iron Queen
Author: Julie Kagawa
Publisher: Harlequin
Publication Date: January, 2011
Softback: 368 pages
Stand Alone or Series: Series–this is the third in a series.
How I got this book: Bought
Why I chose this book: I've read the other books in the series, and I was really looking forward to this one.  If you havent' gotten the chance to read this series, or it's on your to-be-read pile, pull it up to the front, 'cause this one is epic.
Book Synopsis
My name is Meghan Chase.
I thought it was over. That my time with the fey, the impossible choices I had to make, the sacrifices of those I loved, was behind me. But a storm is approaching, an army of Iron fey that will drag me back, kicking and screaming. Drag me away from the banished prince who's sworn to stand by my side. Drag me into the core of conflict so powerful, I'm not sure anyone can survive it.
This time, there will be no turning back.
Review
What can I say about the Iron Fey Series?  Ummm… EPIC!  In this mesmerizing third installment of the Iron Fey series, we follow the dubious trio of Megan, Ash, and Puck as they travel into the Iron Realm and try to defeat the false king.  All the while, Megan and Ash explore a tantalizing relationship.  But in the end, can it survive? 
A false king has taken over the Iron Realm, even though Megan possesses the magic it takes to rule.  So now the false king is looking for her, wanting to kill her and take the power for his own.  But there's one problem in his plan.  Megan's coming to him.  She's tired of sitting around, watching people die for her.  With some sword practices from Ash, and an iron determination, Megan takes on the false king, with the fate of the Nevernever resting on her shoulders.  No pressure, right?
The Iron Queen was stunning, with a new twist at every corner.  And, the next installment, The Iron Knight, will be written from Ash's point of view. (I'm pretty sure.  Keep your fingers crossed.)