Wildfire
by Karsten Knight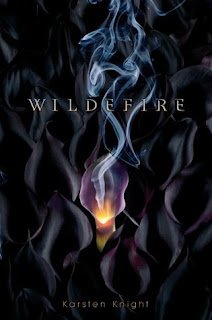 Title: Wildfire
Author: Karsten Knight
Publisher: Simon & Shuster Children's Publishing
Publication date: July 26, 2011
Stand Alone or Series: Series (I think.  If not, I really hate the ending!)
Hardcover: 400 pages
How I got this book: ARC from S&S
Why I chose this book: I'm not gonna lie.  I love judging books by their covers.  It's something I do.  And I absolutely love the cover of this book.  It's something that you can study and ponder over.  Perfecto!
Book Synopsis
Every flame begins with a spark.
Ashline Wilde is having a rough sophomore year. She's struggling to find her place as the only Polynesian girl in school, her boyfriend just cheated on her, and now her runaway sister, Eve, has decided to barge back into her life. When Eve's violent behavior escalates and she does the unthinkable, Ash transfers to a remote private school nestled in California's redwoods, hoping to put the tragedy behind her. But her fresh start at Blackwood Academy doesn't go as planned. Just as Ash is beginning to enjoy the perks of her new school—being captain of the tennis team, a steamy romance with a hot, local park ranger—Ash discovers that a group of gods and goddesses have mysteriously enrolled at Blackwood…and she's one of them. To make matters worse, Eve has resurfaced to haunt Ash, and she's got some strange abilities of her own. With a war between the gods looming over campus, Ash must master the new fire smoldering within before she clashes with her sister one more time… And when warm and cold fronts collide, there's guaranteed to be a storm.
Review
Karsten Knight is hilarious, his book is amazing, and his story is addicting.  When I first picked up Wildfire (yesterday) I wasn't sure how I was going to feel about reading another greek mythology YA book.  They've been coming into popularity lately.  But Karsten Knight makes his book a must read with all the witty repatoire, the steamy romance, and the new spin on greek mythology.  Ash is a badass main character, with good comebacks and a fiery attitude.  Oh, and she happens to be a volcano goddess!  With her band of friends (also gods and goddesses), we follow her as she battles with her evil sister, Eve, who has tried to ruin her life more than once.  You will laugh.  You (might) cry.  You will be addicted.  Read Karsten Knights, Wildfire, hitting shelves July 26, 2011!