Abandon
by Meg Cabot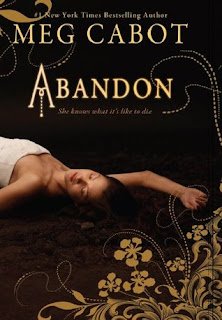 Title: Abandon
Author: Meg Cabot
Publisher: Point
Publication Date: April 26, 2011
Hardback: 320 pages
How I got this book: An ARC from Scholastic
Why I chose this book: Meg Cabot is a literary genius.  Why wouldn't I want to read one of her books?!
Book Synopsis
Though she tries returning to the life she knew before the accident, Pierce can't help but feel at once a part of this world, and apart from it. Yet she's never alone . . . because someone is always watching her. Escape from the realm of the dead is impossible when someone there wants you back.
But now she's moved to a new town. Maybe at her new school, she can start fresh. Maybe she can stop feeling so afraid.
Only she can't. Because even here, he finds her. That's how desperately he wants her back. She knows he's no guardian angel, and his dark world isn't exactly heaven, yet she can't stay away . . . especially since he always appears when she least expects it, but exactly when she needs him most.
But if she lets herself fall any further, she may just find herself back in the one place she most fears: the Underworld.
Review
This tantalizing prose of a story is, in my opinion, Meg Cabot's best YA novel yet.  You see, Pierce died.  But she didn't see a bright light at the end of a tunnel, or pearly gates.  No, she saw him. His name is John–but don't let his simple name fool you.  John is anything but ordinary.  After several incidents, Pierce and her mother move to Isle Huesos, her mother's hometown, trying to start over again.  But this turns out to be impossible when John keeps showing up.  Turns out, he's not the only one that wants her.  Occasionally confusing, the story switches between the present, and flashbacks.  My only disappointment – besides having to wait for the next installment, Underworld – was the instantaneous love that materialized, so uncharacteristic of Cabot's other novels.