Clarity
by Kim Harrington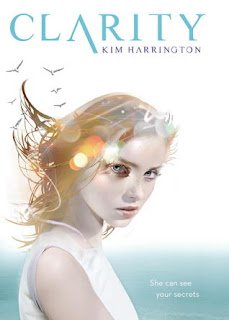 Title: Clarity
Author: Kim Harrington
Publisher: Point
Publication date: March 1, 2011
Hardcover: 256 pages
How I got this book: ARC from Point
Why I chose this book: It seemed like it would be such a fun read.  I've never read about a "family or freaks" and wanted to change that.
Book Synopsis
When you can see things others can't, where do you look for the truth?
Clarity "Clare" Fern sees things. Things no one else can see. Things like stolen kisses and long-buried secrets. All she has to do is touch a certain object, and the visions come to her. It's a gift.
And a curse.
When a teenage girl is found murdered, Clare's ex-boyfriend wants her to help solve the case–but Clare is still furious at the cheating jerk. Then Clare's brother–who has supernatural gifts of his own–becomes the prime suspect, and Clare can no longer look away. Teaming up with Gabriel, the smoldering son of the new detective, Clare must venture into the depths of fear, revenge, and lust in order to track the killer. But will her sight fail her just when she needs it most?
Review
With a writing style similar to that of Meg Cabot, Clarity was utterly amazing!  I was surprised by how addicting this book was.  At first, reading about the love life of Clarity Fern, I assumed this book would be predictable and simple.  Was I wrong, or what!  I was on the edge of my seat (figuratively) for the entire novel.  As we follow Clarity (Clare) as she works with the police to find a killer, we get to sit back and analze every other character.  While my disappointment was there for the characters of Perry (her brother) and Nate (her friend), who seemed childish compared to their ages, I thoroughly enjoyed the personalities of everyone in the story.  With Clare, it seemed there was a boy for her around every corner, but things are not as they seem.  Personally, I'm voting for Justin.  I would recommend this book to fans of any genre, and will be watching closely for the next installment.