Evercrossed
by Elizabeth Chandler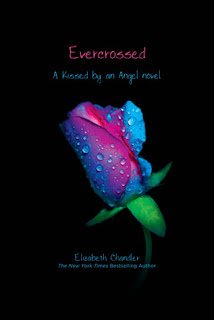 Title: Evercrossed
Author: Elizabeth Chandler
Publisher: Simon Pulse
Publication date: March 8, 2011
Hardcover: 288 pages
Stand Alone or series:  Series–this is the second in the series
How I got this book: EGalley from Simon & Shuster
Why I chose this book:  I read Kissed by an Angel, the first installment in the stories, and it is truly breathtaking.   If you haven't checked it out yet, get on it!
Book Synopsis
It's been a year since Ivy's boyfriend, Tristan, died. They've both moved on—Tristan to the other side of the afterlife, and Ivy to sweet, dependable Will. Now Ivy's heading to Cape Cod, hoping to leave the horror of last summer behind. She wants nothing more than to lie on the beach, sip lemonade, and hang out with her friends.
But then a car crash ends Ivy's life.
As she floats to the beyond, looking down on the life she's left behind, Tristan breathes life back into her with a passionate kiss. She wakes up in the hospital, surrounded by Will and her family, but all she can think about is the love that she lost.
But memories aren't all that's come back from the past. And this time, Ivy's not sure love will be enough to save her.
Review
Epic does not even begin to describe this novel.  In all honestly, I think the Kissed by an Angel novels are the best books I have ever read.  And I've read a lot of books.
The story starts off in Cape Cod, where Ivy, Will, Beth, and some new friends are working at in inn for the summer.  It's almost the anniversery of Tristan's death, and things aren't going well for Ivy.  Then Ivy and Beth get in a car accident, and Ivy dies.  But in a gut-wrenching series of events, Ivy comes back, more touched by Tristan than ever.
In this heartfelt novel where your emotions are privy to all, the past comes back to haunt as Ivy fears for her life, and for her love.