The Demon Trapper's Daughter
by Jana Oliver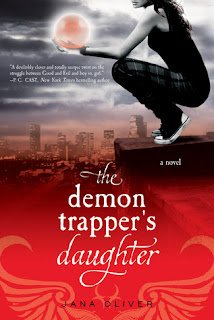 Title: The Demon Trapper's Daughter
Author: Jana Oliver
Publisher: St. Martin's Griffin
Publication Date: February, 2011
Softback: 368 pages
Stand Alone or Series:  Series–this is the first in a series
How I got this book: Bought
Why I chose this book: When I saw this book was coming out, I immediately jumped on the bandwagon.  I mean, who doesn't love a good story about a kickass girl who hunts demons?
Book Synopsis
Riley Blackthorne just needs a chance to prove herself – and that's exactly what the demons are counting on…Seventeen-year-old Riley, the only daughter of legendary Demon Trapper, Paul Blackthorne, has always dreamed of following in her father's footsteps.  The good news is, with human society seriously disrupted by economic upheaval and Lucifer increasing the number of demons in all major cities, Atlanta's local Trappers' Guild needs all the help they can get – even from a girl. When she's not keeping up with her homework or trying to manage her growing crush on fellow apprentice, Simon, Riley's out saving distressed citizens from foul-mouthed little devils – Grade One Hellspawn only, of course, per the strict rules of the Guild. Life's about as normal as can be for the average demon-trapping teen.
But then a Grade Five Geo-Fiend crashes Riley's routine assignment at a library, jeopardizing her life and her chosen livelihood.  And, as if that wasn't bad enough, sudden tragedy strikes the Trappers' Guild, spinning Riley down a more dangerous path than she ever could have imagined. As her whole world crashes down around her, who can Riley trust with her heart – and her life?
Review
The cover: Awesome cover, overall.  After reading the story I thought the cover really illustrated this new world perfectly.
The characters: Riley is badass.  She hunts demons.  Even though she's only an apprentice – which means she hunts grade 1 demons – she took down a grade three demon all by herself.  She's got natural abilities, and people are afraid.  I really loved reading through Riley's point of view.  Even though she's very different from me, I also found that she was relatable.
Beck is a pain in the ass.  Or at least to Riley.  While it was sometimes annoying reading his personal dialect, it encompassed his nickname, "backwoods boy" perfectly.  Yes, Beck seems like a selfish, alcoholic jerk.  But take a closer look.  There's pain, love, and the hope that everything will be okay.
Simon is a goody-two-shoes.  He loves god.  He resists temptation.  He has a thing for Riley.  A demon trapper like Riley, Simon is moving up in the ranks, almost to becoming a journeyman.  And he has a secret.  He wants to be a hunter (which is frowned upon by trappers.)
The plot: Set in Atlanta, Georgia, Riley Blackthorne is the first ever female demon trapper.  But it's not easy when most people in her own trapper's guild are against her being there.  And then her dad dies.
Riley's time is divided between trapping demons so she has money to pay the rent, spending time with the cute and sensitive Simon, and sitting vigil at her dad's grave to make sure the necromancer's don't get ahold of his body.
But then everything starts going down the drain.  The Holy Water isn't working, the Demon's are starting to work together, and life is falling apart.
I had a hard time getting into the romance between Simon and Riley.  It wasn't as believable as I would have liked.  We only read about Riley and Simon a couple times before they become a couple.  Then we learn of Beck's feelings for Riley.  I also had trouble with this.  Beck just seemed like more of a brother figure than anything else.  I guess we'll have to wait for the next book.  (Personally, I'm rooting for Ori) (Ori is a demon hunter!  Uh-oh!)
Overall: The book was okay.  I will definitely read the next book in the series.
Spare Thoughts: Please please please more Ori!
Final: The Demon Trapper's Daughter is enchanting and creative.
Sorry for the not so great review. I'm a little sleep deprived…