Those That Wake
by Jesse Karp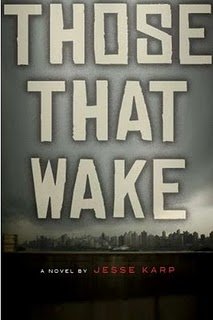 Title: Those That Wake
Author: Jesse Karp
Publisher: Harcourt Children's Books
Publication date: March 21, 2011
Hardcover: 336 pages
How I got this book: Egalley from Netgalley.
Why I chose this book: The cover is what really caught my attention.  That and the title.  They both jump out at you and draw you in. 
Book Synopsis
New York City's spirit has been crushed. People walk the streets with their heads down, withdrawing from one another and into the cold comfort of technology. Teenagers Mal and Laura have grown up in this reality. They've never met. Seemingly, they never will. 
 
But on the same day Mal learns his brother has disappeared, Laura discovers her parents have forgotten her. Both begin a search for their families that leads them to the same truth: someone or something has wiped the teens from the memories of every person they have ever known. Thrown together, Mal and Laura must find common ground as they attempt to reclaim their pasts.
Review
I have to admit, I was really exicted to read this book after reading the synopsis.  Don't let that note get you down.  Though I was slightly disspointed by this book, it did have it's pros.  It was complex.  Enough so to keep me involved in the story and flipping pages.  It's a nice addition to the dystopian genre that blowing up at the moment.  However, the book takes on a very somber, the-world-is-gonna-end tone.  I'm not saying this is a bad thing, just that it's not for everyone.